Home
Wisconsin Responsible Serving of Alcohol
Wisconsin Responsible Serving of Alcohol Information
Wisconsin Responsible Serving of Alcohol Course Approval
Approved Wisconsin DOR Alcohol Seller/Server Certification
The Rserving® Wisconsin Responsible Serving® of Alcohol course is approved by the Wisconsin Department of Revenue - for Wisconsin Alcohol Seller / Server Certification. This Wisconsin approved online responsible beverage server training course provides the Wisconsin State Approved Alcohol Server / Seller certification required to comply with Sec. 125.17 and 125.04(5)(a)5. Wis. Stats. and can be used to get your Wisconsin bartending license in the State of Wisconsin.


Employers receive discount pricing.
The Wisconsin Responsible Serving® course is approved by the Wisconsin Department of Revenue.
With this course, you will learn all the required information in order to receive your bartender license/permit to sell and serve alcohol in Wisconsin. Upon course completion, you will receive the official bartender license approved by the Wisconsin Department of Revenue. Take the course and obtain your license today!
When you have completed the course and printed your certificate (at no extra charge), simply take it to the courthouse in the county/municipality in which you will be working to receive your Wisconsin bartender's permit. This is also referred to as the Wisconsin bartender license or seller/server license.
The course takes about 3-4 hours to complete; you can take the course immediately after signing up, or you can take it later at your leisure. Once you have signed up, you will receive a username and password to log in to the online course through our website. You may take the course all at once or in short sessions.
The course lessons contain text, audio, videos, flashcards, and interactive quizzes.
Once you have passed the course, you can print your course certificate online instantly!
Course Provider:
Professional Server Certification Corp - Responsible Serving
®
Course - Rserving.com (Approved by Wisconsin Dept. of Revenue for the required seller/server permit.)
Three Easy Steps to Get Your WI Bartender License
Sign up and take the online course (click "add to cart").
Print your certificate.
Take the certificate to the clerk of courts in the county/municipality where you will work.
Price valid for limited time only
Click the
add to cart
button below and proceed to the checkout to get signed up. You will be emailed a username/password to login and begin.
---
Wisconsin Responsible Serving of Alcohol is also available through the following offer:
Related Courses for Wisconsin:
What is the minimum age to sell/serve alcohol in Wisconsin?
The minimum age to sell and serve alcohol in Wisconsin is 18.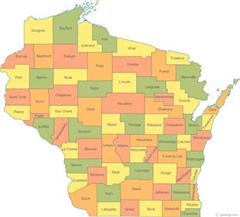 ---
The Wisconsin Alcohol & Tobacco Agency
The agency that handles Wisconsin liquor licensing and/or bartender licensing rules and regulations in Wisconsin is The Wisconsin Alcohol & Tobacco Agency. The contact information for The Wisconsin Alcohol & Tobacco Agency is listed below. You can contact them to verify that online server certification (bartender license) can be obtained in Wisconsin. We have also listed that information where applicable.
The Wisconsin Alcohol & Tobacco Agency
Telephone: (608) 266-2776
Website:
https://www.revenue.wi.gov/Pages/FAQS/ise-atlicns.aspx/
Bartending License, responsible beverage server training - alcohol seller / server operator's license regulations for sellers and servers in Wisconsin
WI Dram Shop Laws: Limited
Can bartenders in WI work as a bartender with a felony conviction? no
No. A person who has an arrest or conviction record that relates to alcoholic beverages, etc. may not be issued an alcohol beverage license; if the person is convicted of a felony, he/she must get a pardon to be considered for receiving an alcohol beverage license.