Home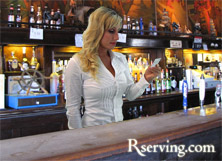 Congratulations! Now you can buy the quality Rserving Wisconsin Bartender License Course at a discount!
Get your Wisconsin Bartender License certification from Rserving.com

Reasons to Get Your Wisconsin Bartender License from Rserving.com:
Take the bartender license (responsible serving®) course online and print your certificate instantly! There is no additional cost to print your certificate instantly or receive a copy by mail.
Low Cost: one low price to take the course online and print your certificate.

Wisconsin Responsible Serving® Approval
The PSCC Wisconsin Responsible Serving
®
course is approved by the Wisconsin Department of Revenue - Alcohol Seller/Server Certification. This bartender license (operator's license) course provides the certification required to comply with Wisconsin Statutes 125.04 and 125.17.
WisconsinResponsibleServing.com is a division of
Rserving.com
, the leader in online training for Responsible Serving
®
of Food and Alcohol.
Professional Server Certification Corporation - Rserving.com
PO Box 192
Madison, SD 57042
800 247 7737
Contact Us